FENDT 900 VARIO GEN6 TRACTORS
FENDT 900 VARIO GEN6 TRACTORS
AgRevolution is proud to offer the Fendt® 900 Vario Gen6 tractor. It's packed with innovative features that work together to provide you with a low total cost of ownership.
The Fendt 900 Vario Gen6 offers big power in a compact design. With up to 415 horsepower, it's made to capably haul a wide variety of implements with optimum versatility. And yet, it's flexible enough to maneuver almost anywhere with minimal soil compaction. This tractor is made for row-crop applications and designed with power, efficiency and comfort in mind, so it performs for any job.
Compact frame with narrow hood and transaxle design
Operating weight from 24,900 to 42,000 pounds
Optimized transmission lead ratio
Expanded tire offerings
Minimal soil impact with reduced slip
Up to 8% lower diesel consumption with VarioGrip
Plus, get complimentary Gold Star coverage that helps you keep costs firmly under control for the first three years or 3,000 hours.
Fendt 900 Gen6 tractor close up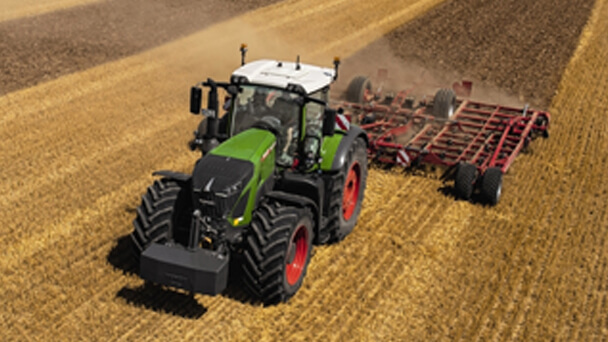 Fendt 900 Gen6 tractor with a field cultivator attachment
| Model | Engine | Engine hp | Max Torque ft.-lb. |
| --- | --- | --- | --- |
| 930 | MAN 9 L, 6-cyl. | 296 | 1,143 |
| 933 | MAN 9 L, 6-cyl. | 326 | 1,217 |
| 936 | MAN 9 L, 6-cyl. | 355 | 1,298 |
| 939 | MAN 9 L, 6-cyl. | 385 | 1,364 |
| 942 | MAN 9 L, 6-cyl. | 415 | 1,453 |